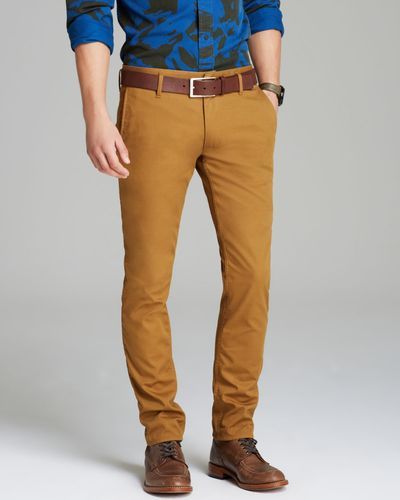 You are wondering what to wear with those brown pants in your closet? You're not alone. While denim is always a reliable go-to, brown pants can be slightly more challenging to style. But with the right pairing, they can look just as good as your favorite jeans. Read on for some tips on what to wear with brown pants men.
Try a Light Shirt
When styling brown pants, one of the best things you can do is keep your top half-light. A white t-shirt or linen button-down are both great options. This will help create a sharp contrast that really makes the brown pop.
And if you're looking to add a little more interest to your outfit, consider a printed shirt in a light color like blue or pink. Just make sure the print isn't too busy, so it doesn't compete with your pants.
Pair with Black
If you want to give your outfit a little more edge, try pairing your brown pants with black instead of white. This look works especially well for evening events or date nights.
A black tee or Henley will complement the darker tones of your pants and help create a strong visual contrast. To take things up a notch, try adding a leather moto jacket or wool blazer to really drive home the rebellious vibe. 
Experiment with texture
In addition to mixing up the colors in your outfit, another great way to add interest is by playing with texture. To achieve this look, pair your brown pants with a sweater or tee made from a chunky knit material.
The added texture will give your outfit an elevated feel without making things too complicated. And if you want to go all out, you can also add an interesting texture to your shoes. Suede loafers or leather Chelsea boots are both great choices that will help pull the whole outfit together. 
Polo Shirt and Loafers
This is a great casual look for men that can be worn on a variety of occasions. To get this look, simply pair brown pants with a polo shirt in any color. Navy blue, light blue, and white are all great choices.
Then, add a pair of loafers in brown or black. This outfit is perfect for backyard barbecues, days at the park, or running errands around town.
Dress Shirt and Dress Shoes
For a more formal look, try pairing brown pants with a dress shirt and dress shoes. A white dress shirt is always classic and looks great with brown pants. However, if you want to add a pop of color, try pairing the pants with pink, light blue, or striped shirt instead.
Then, finish off the look with black or brown dress shoes. This outfit is perfect for weddings, job interviews, or other formal occasions.
T-Shirt and Sneakers
This is a great laid-back look for men that is still stylish and put-together. To get this look, start by pairing brown pants with a simple t-shirt in any color. Then, add a pair of sneakers in any color scheme that matches your t-shirt choice. This outfit is ideal for days when you're running errands or just hanging out with friends. Plus, it's comfortable enough to wear all day long!